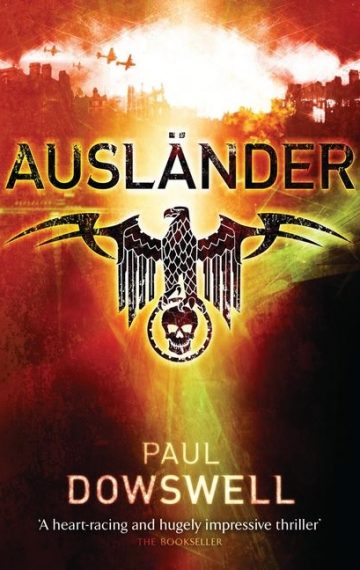 Publisher:

Bloombury Publishing

Available in:

Hardback, Paperback, Kindle

ISBN:

978-0747594192

Published:

January 4, 2010
Buy from amazon.co.uk
Buy from amazon.com
When Peter's parents are killed, he is sent to an orphanage in Warsaw. Then German soldiers take him away to be measured and assessed. They decide that Peter is racially valuable. He is Volksdeutscher: of German blood. With his blond hair, blue eyes, and acceptably proportioned head, he looks just like the boy on the Hitler-Jugend poster. Someone important will want to adopt Peter. They do.
Professor Kaltenbach is very pleased to welcome such a fine Aryan specimen to his household. People will be envious. But Peter is not quite the specimen they think. He is forming his own ideas about what he is seeing, what he is told. Peter doesn't want to be a Nazi, and so he is going to take a very dangerous risk. The most dangerous risk he could possibly choose to take in Berlin in 1943.
---
Awards
Winner of:
The Trinity Schools Book Award
Hamelin Associazione Culturale Book Prize, Bologna
Portsmouth Book Award
The Essex Book Award
Calderdale Book of the Year
Cheshire Schools Book Award
We Read Book Award
Shortlisted for:
13 book awards including:
The French Tam Tam Book Prize
The Rome Book Festival Award
The Book Trust Book Award
The Red House Book Award
The Northern Ireland Book Award
The Independent Booksellers Book Award
The Catalyst Book Award
The North East Teenage Book Award
Red Book Award, Falkirk
The Angus Book Award
Longlisted for:
The Carnegie Book award.
Nominated for:
'Best Fiction for Young Adults' award by the American Library Association.
Selected for:
'The Best Children's Books of the Year' by the Bank Street Book Committee, New York.
Reviews
Ausländer ranks among the very best of wartime historical fiction.
Financial Times
John Boyne's "The Boy in Stripped Pyjamas" is a bestseller in this genre, but Auslander is better.
De Telegraaf. Netherlands
This book has everything a book needs to have. Shocking, stunning, beautiful – these are just some of the adjectives that I could name. Never before has my heart beat faster with a book, and I've never read a book (where it was so difficult to take a break.
Neue Zürcher Zeitung Germany
A breakthrough into the top league for Dowswell, …There will be many adults who will be sneakily borrowing this from their children.
The Bookseller 'Ones to watch' Top Title
Dowswell is one of the best new writers of historical fiction for children.[Ausländer] comes close to classics such as 'The Silver Sword'.
The Times
Paul Dowswell's name on the front of Ausländer is enough to overcome Nazi fiction fatigue, for he is a brilliant historical novelist… (He) shows us a side of Nazi Germany rarely seen.
Daily Telegraph
The Auslander is a powerful piece of young adult fiction that appeals just as comfortably to adult readers. Mr. Dowswell provides a wonderful character study of an average Polish boy searching for the resolve to fight Nazi propaganda and help victims of persecution.
New York Journal of Books
Dowswell's compelling story is told without sentimentality…Believable characters wrestle with impossible choices as the writer opens a window into the true horror of the time…
Fiction Focus, Australia
Dowswell… is a writer with a talent for using historical fact as a basis of thrilling fiction, and Auslander is an outstanding example of the grip novels like this can have on a reader…
South China Morning Post
Well constructed, morally complex and consistently engaging, this examination of a people's complicity with evil is revealing and important.
The Independent
The characters are rich and nuanced, flawed people caught up in a terrible time; the action is swift and suspenseful; and the juxtaposition of wartime nobility and wartime cruelty is timeless.
The Horn Book Magazine (US)
Youth books on World War II are a dime a dozen, (but) Paul Dowswell's novel stands out from the crowd… (Peter's) change of heart from a follower to an active opponent of the regime (is depicted with) depth and authenticity…
lizzynet.de Germany