COVID VIRUS
In the current circumstances I am offering both actual visits and virtual visits to schools. Please contact me for further details at 
Reviews
Our visit from the writer Paul Dowswell was one of our highlights of the academic year. A brilliant storyteller, Paul has the rare ability to really engage young people.

Andrew Murray – The Norwich School
Paul's tales of ordinary people living through extraordinary times really connected with our students. He brings history alive, describing his own passion for history and how his fiction is rooted in fact – whether it's a Polish boy adopted by a Nazi family in Berlin or a teenager living in Stalin's Moscow. Our pupils were captivated by his presentation and buzzing with questions at the end.

Terri McCargar – Latymer Upper School
Paul Dowswell is an engaging and enthusiastic speaker. His research and background knowledge is fascinating and I have watched many groups of young people be drawn into his stories – often against all expectations! His novels are powerful and thought-provoking and cause their readers to consider history from different perspectives.

Jane Sandell – Senior Librarian – Elgin Library
---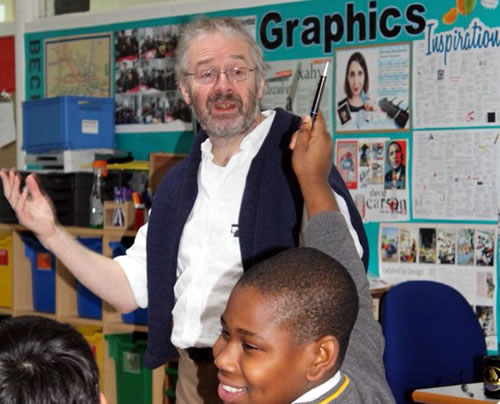 Information
Paul gives illustrated book talks, writing workshops and question and answer sessions.
All school visits are tailored to fit with the school.
He is also happy to chat to young writers over lunch.
He will take up to four talks or workshops per school day. Writing workshops work best in class sizes but talks can be to groups of any size.
Paul is happy to contribute to festivals and conferences.
I've talked about my books on Radio 4, in schools all over the UK, and at schools and festivals in Europe, South Africa and Australia. I've appeared at, among others the Edinburgh, Cheltenham and Hay Book Festivals in the UK.
I have also worked as writer in residence with St Peter's Collegiate School in Wolverhampton, Summer Fields Prep School, Oxford, Christ Church Grammar School, in Perth, Australia, The International School, Groningen, Netherlands and Heron Bridge College, Johannesburg.
For further information and details of fees, please email paul@pauldowswell.co.uk
---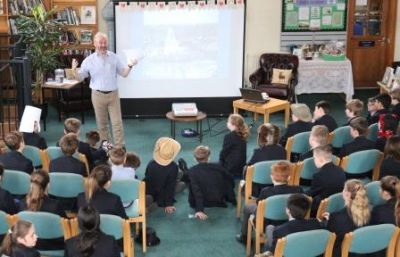 Book Talks
I give illustrated talks on the following books:

The Great Revolt – The Peasants' Revolt and the Medieval World For age 11 and upward
The Peasants' Revolt of 1381 was a remarkable display of courage and defiance in a world that was vastly different from our own.

Wolf Children – Orphans fight to survive in the ruins of post-war Berlin For age 11 and upward
A timely story of refugees, ruined cities and the exploitation of the idealistic young by a fanatical ideology.

Auslander – 'Your child belongs to us…' Growing up in Nazi Germany For age 12 to adult
Polish orphan Peter Bruck is adopted by Berlin Nazis on the strength of his 'Aryan' looks. Then he falls in love with freethinking Anna, and his life becomes unimaginably dangerous…

Eleven Eleven – Boy soldiers and the First World War For age 11 to 16
William Franklin and Axel Meyer are both 16 year old soldiers. Fighter pilot Eddie Hertz is 19. Fate draws them together on the final day of the Great War. Not all of them will survive.

Bomber – The air war over occupied Europe For ages 11 upward
In 1943 three out of four American bomber crews in England were shot down over Occupied Europe. 'Bomber' depicts the trials of one such crew as they face these daunting odds.

Sektion 20 – A Cold War thriller about teenagers in East Berlin For age 12 to adult
It is 1972. Alex Ostermann is a normal teenager – he wants to look cool and listen to rock music. But Alex lives in East Germany – a society where one in six people are Stasi informers. Alex's minor rebellion threatens his future and even his life, and has catastrophic consequences for his friends and family.
I also do a combined Auslander and Sektion 20 talk entitled 'The Real Big Brother'

Red Shadow – Life for teenagers in Stalin's Russia For age 12 to adult
Teenagers Misha Petrov and Valya Golovkin find their life turned upside down by the Nazi invasion of Russia and the attentions of the Soviet Secret Police – the NKVD.

Powder Monkey – A boy's life in Nelson's Navy For age 9 to 12/13
Two hundred years ago, boys as young as 10 or 11 were expected to fight and die in the Royal Navy. Find out what a powder monkey was and why it was such a dangerous job.

Blood, Sweat and Tears – Where writers get their ideas For age 11 to adult
A general talk explaining how photographs, paintings, music and research trips to locations featured in my novels have all inspired my writing.

Wave – A Barrington Stoke novella on the first day of the Battle of the Somme For age 11+
This book was written for reluctant and dyslexic readers.

---
Book Sales
Paul does not usually bring his books to a school but he will be happy to take part in a book signing if you would like to sell them. If you don't have a preferred local book shop, Paul can recommend Rosie Hill at www.rosemaryhillbooks.co.uk
---
Writing Workshops
I take Primary/Secondary/Adult writing workshops on the following subjects:
Turning Fact into Fiction
First Steps in Creative Writing
Keeping Your Reader Reading
Creating Characters
A Sense of Place
Writing for Newspapers
Ghost stories/Creating Suspense
How to write adventure stories (8-12)
These workshops often follow on from a book talk and work best with class-size groups. I'm also happy to take workshops without a preceding book talk.
---
Working with Adults
I also give all-day creative writing classes for adults on writing historical fiction and writing children's picture books. Between 2001-2005 I taught a course on writing picture books at the Midlands Arts Centre (mac) in Birmingham, and several of my students went on to be published.
I am a visiting professor at Manchester Metropolitan University and recently taught an MA course there on writing for young adults. I also participated in their 2019 summer school teaching a class entitled
'Blighters, Bounders, Scamps or Scallywags? Getting your era to feel right.'
I have just finished three years working at Leicester De Montfort and Sheffield Universities, helping students with their writing – focusing, among other issues, on readability, clarity, good grammar and presenting work in an academic style. I am currently looking into ways of continuing this work and would welcome any enquires from individuals or institutions.