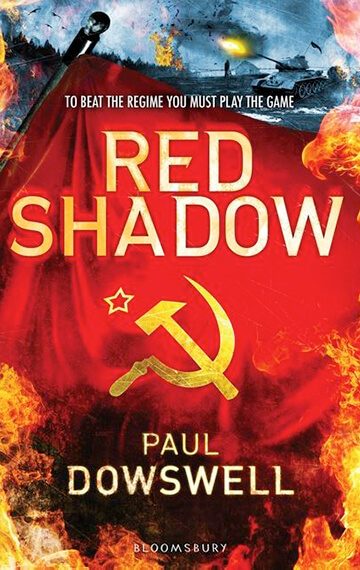 Publisher:

Bloomsbury

ISBN:

978-1408826249

Published:

May 8, 2014
Buy from amazon.co.uk
Buy from amazon.com
Russia, 1940. Fifteen-year-old Misha's life is transformed when his father is offered a job in Stalin's inner circle. They move into a luxurious apartment in the Kremlin, but doubts about the glorious new Russia quickly surface. Misha realises that the secret police can do whatever they like. His own mother is arrested and sent to prison, but Misha and his father daren't complain. Then as German troops advance on Moscow, the atmosphere in the Kremlin ignites. Misha and a friend find themselves at the heart of a battle against the mighty state in this powerful evocation of one of the most turbulent places and periods of the 20th century, told by a master storyteller.
---
Awards
Shortlisted for:
The 2015 Historical Association Young Quills Award
Sefton Super Reads 2015
Reviews
Paul Dowswell's historical novels are minutely researched but wear their knowledge lightly, never failing to entertain. This is no exception.
Jane Sandell, The Scotsman
…a highly attractive and beautifully written novel, with pages full of suspense and in-depth characters.
Avvenire (Italian daily newspaper)
In a nutshell, a brilliant novel that grips till the end.
Tribune (Indian daily newspaper)
Not only historically accurate but also gripping, this is historical fiction of the high standard we have come to expect from Paul Dowswell.
Jill Murphy, Book Bag
Having twice won the Historical Association Young Quills Book Award you know that Paul Dowswell's novel will be impeccably researched, but more than that, you can expect a powerful and engrossing story and this is exactly what we get.
Joy Court, School Librarian magazine
The reader is drawn into a world of political intrigue, suspicion and treachery. …an exciting story with the potential to both entertain and enlighten young readers.
Ciara Ni Bhroin, INIS Children's Books Ireland.
This is a brilliant book I can recommend to any parent as a teenager's present. It is a fascinating education in man's inhumanity and political misdirection… Red Shadow gives an accurate flavour of Moscow at war, with radical political viewpoints and intelligent arguments.
Historical Novels Society
The story seems so unreal and the main characters are fictional, but the events are not and that makes it so fascinating to read and sit with goosebumps.
Boekenbijlage, Netherlands
… the story is compelling, supported by Dowswell's usual narrative rhythm that always impresses. (This is an) effective description of Soviet Russia, in all its greatness and miseries.
lettura candida blog, Italy
The atmosphere of fear and suspicion, the arrogance of power and terror, the looming war with Germany, everything is made to perfection… Dowswell is also an excellent storyteller, able to build beautiful and compelling stories.
Paper Blog, Italy
I was awake all night reading this book, knowing that if I put it down I would be eaten up with curiosity. I ended up going to school the next day feeling like a zombie, but it was worth it.
Book Enders, India (Blog)
Dowswell paints a gritty, realistic and well researched portrait of the political intrigue that seethed behind the Kremlin walls just prior to the Nazi invasion. The plot twists and turns carrying the reader on a rollercoaster ride that seems destined to end in darkness.
History and Women (US)