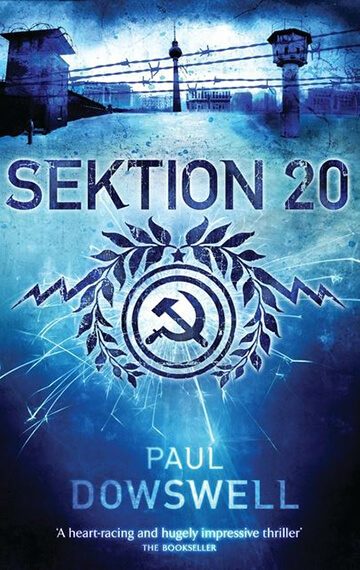 Publisher:

Bloomsbury

Available in:

Paperback, Kindle

ISBN:

978-1408808634
Buy from amazon.co.uk
Buy from amazon.com
Alex lives in East Berlin. The cold war is raging and he and his family are forbidden to leave. But the longer he stays the more danger he is in. Alex is no longer pretending to be a model East German, and the Stasi has noticed. They are watching him. Alex is told that further education will be blocked to him. His summer job is mysteriously cancelled, and friends begin avoiding him. His parents start to realise that leaving the East may be the only option left to them, but getting across the Wall is practically impossible. And even if Alex and his family make it to the other side, will they be able to escape the reach of the Stasi? This is a tense, page-turning thriller that builds towards a terrifying showdown as powerful forces from the East and West converge.
The Bloomsbury reading guide for teachers can be found here.
---
Awards
Winner of:
Historical Association Young Quills Award
Shortlisted for:
Sélection du prix des jeunes lecteurs d'Eure-et-Loir "Histoires d'ados"
The Northern Ireland Book Award
The Leeds Book Award
Longlisted for:
Carnegie Book Award
Reviews
A great thriller with a poignant historical background… terrific
The Bookseller September Highlights
The stifling atmosphere and fear pervading people's lives in post war East Berlin are intensely felt… The author has created a thoroughly absorbing story within a real historical setting to great effect, appealing to teenage readers across the board.
The Book Trust 
Paul Dowswell writes very well constructed historical books which are never mere entertainment, rather, they offer kids the opportunity to immense themselves… in the important events of the past. (He) is a great writer that we should certainly recommend to our children.
Camilla Biagini,  Contatto News, Italy
Dowswell is increasingly well known for his detailed, thoughtful accounts of actual historic events and his enviable talent for presenting history in a fresh and accessible manner for his teenage audience.
The Truth About Books
We loved this one – it combines awesome, accurate research with genuine tension and sympathetic, well-rounded characters.
The Book Bag, August 2011
'Sektion 20 is one of those rare books which can be used as an effective and enjoyable teaching resource.'
Viewpoint, University of Melbourne Graduate School of Education.
Sektion 20 is far and beyond one of the best accounts of post-War Eastern-Bloc Germany I have ever read.
Book Angel Booktopia
Dowswell achieves a sense of balance between the fast paced action and adrenaline rush of a thriller and the detail and realism of a historical novel in this perfectly pitched hybrid novel which will keep readers gripped throughout.
Books for Keeps